Hey! Long time no see!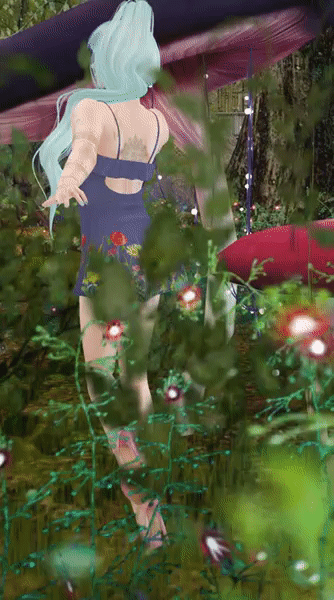 I got super busy this year and SL commitments had to be dropped!
So I went shopping at Collabor88's birthday round and there were so much rainbow and plastic/vinyl/leather, I nearly ran out of money buying everything! I got the hair from .Olive., which is a guest in the birthday round. It super kawaii and based off of a YouTuber that is obsessed with Magical Girl items! I also got these hot heels from [BREATH], which is a new brand to me, but these are so pretty. I also got these cute lightning bolt charm earrings from Schadenfreude.
The dress is from Poppy at Uber, which is a relatively new brand, with the texture artist, Roslin Petion, being a long time fixture in the SL fashion community through her skins and lingerie.
My makeup is by Studio Exposure from the August Powder Pack for Lelutka. It all unicorny and wonderfully twee. Both the eyeshadow and the lipstick are beautifully done, with the wet, glossy lipstick and the metallic sheen of the shadow, it was one of my favorites from the pack this month. I LOVE Powder Pack so much because getting all this makeup for a great deal is really a steal and I always find stuff that I like. I, also, been using quite a few Powder Pack items for my everyday look, so check out my Body Credits to see what is new!
Credits
Hair: the Bright Hair – Crazy Glitter – Lite Rainbow Bangs – .Olive. – Collabor88 August
Eyeshadow: Rainbow Unicorn – EYESHADOW VERS. 1 – Studio Exposure – Powder Pack for Lelutka August
Lipstick: Rainbow Unicorn – LIPGLOSSY VERS. 6 – Studio Exposure – Power Pack for Lelutka August
Septum: Septum – Suicidal Unborn
Earrings: Lightning Acrylic Charm Earrings – Schadenfreude – Collabor88 August
Dress: Lulu Dress – Twilight Purple – Poppy – Uber August
Tattoos: Foil Flash tattoo* – all – RARE – alaskametro<3
Nails: Art Nails – Tropical Paradise – For Maitreya Only –  (Nylon Outfitters)
Shoes: Fumiko Heels – Rose Pink – [BREATH] – Collabor88 August
Poses: [journeys] – girl against the horizon (picture mirrored); [madarine] – feminine;[journeys] – window into the soul; all (marukin)
Animation: 22/BLAONOHover01 –  Sweet Lovely Cute
Location: *StoryBrook Gardens*
*Unclear if still available