The tour is over and I'm goin' home
Home to my baby, the bike of my own
So good to hear her, so nice and so clean
Hard to believe it, she's just like a dream
-AC DC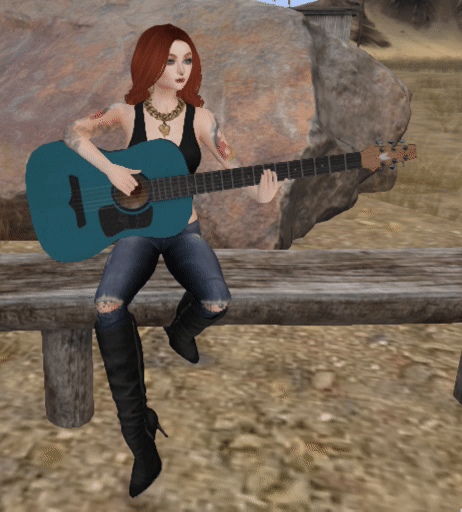 Oh yeah, let's get down with the music!
First off I have to make a huge correction, the hair from Mithral Apothecary that I wore the other day, isn't from Kustom9, but it is this hair, Olive. Oops! As usual, Evadne outdoes herself and make such beautiful hair. I really like how it is blown out, yet sleek, perfect for the outfit and mood I am going for today.
Powder Pack for Lelutka just released the September box, and I found so many things I want to share with you. Today I am wearing .ARISE.'s Carol Makeup Set, both the lipstick and the eyeshadow. I am in love with the eyeshadow's metallic textures. Such a well-done job by Helga. I am also wearing new eyes by [ MUDSKIN ]. Instead of blue, they are a mysterious violet, which is perfect because they are called the "Soul Eyes." These could become permanent so I will play around with them a little more to see how I like them, or if I want to play around with different eyes in the future.
The top I am wearing is a new mainstore release from Blueberry. The top and the included dress are cute and sexy all at the same time and really makes me think I should really follow Blueberry's new releases more often!
The jewelry is from Yummy at Collabor88's Birthday round which will be closing shortly. I thought the chunkiness of the necklace would be a nice contrast against the softer and lightness of the dress.
The boots are from A N E from the most recent Fifty Linden Friday. They are totally hot and I love them. Plus I was able to get them in two colors. I don't wear a lot of boots, but these are perfect for my style.
Credits
Hair: Olive – Reds – Mithral Apothecary – Kustom9 August (Hurry!)
Eyes: Soul Eyes Collection – [ MUDSKIN ] – Powder Pack for Lelutka September
Septum – Septum Piercing – Metal – Suicidal Unborn – Marketplace
Makeup: Carol Makeup Set – .ARISE. – Powder Pack for Lelutka September
Earrings: Plastic Heart Set – Gold – Yummy – Collabor88 August (Hurry!)
Top: Penny Top – Black – Blueberry
Necklace: Plastic Heart Set – Gold – Yummy – Collabor88 August (Hurry!)
Tattoo: Dream Sleeve Tattoo – Gee
Jeans: Real Worn Out Jeans – Addams
Boots: Classic Boots 2pk – Black – A N E – FLF 09/01
Poses: The Vincure Series – Five – an lar [poses]; Cruiser Bike Rezzer – NRG – Marketplace; Bike with Saddle Bags and Stand – GET STUFF – Marketplace (animation embedded by sim owner)
Animation: Season Log Set 3 v1.1 – Botanical
Location: Mother Road – Mirage Motel 66