As summer starts to dwindle, I wanted to make sure that I got to the beach!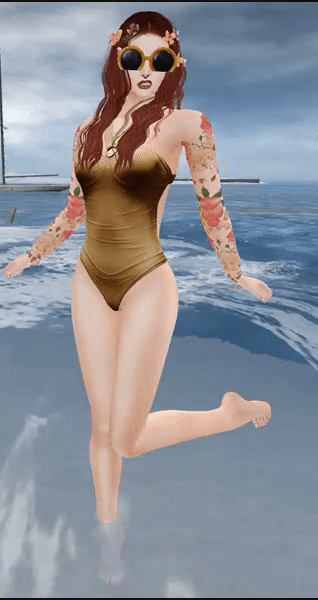 But I found nothing but seaweed and seashells to step on.
Today's look is mainly from Just Because. I really like she does mainstore releases, as I can find whatever she is also selling because she does some great basics. The swimsuit comes in a variety of colors and there is also a sheer panel version included.
This month is also the month of The Mesh Body Addicts Fair, which runs until the 21st of August. I found this awesome tattoo shop called .Identity. Body Shop and got this awesome floral tattoo for a great price. Tattoos that I like are hard to find because sometimes the tattoos look like someone threw a bunch of logos or clip art or it looks all messy because the design is too heavily shaded. I thought this tattoo looked awesome and I wasn't disappointed.
One of my favorite cosmetics brand, alaskametro<3, is also in the fair and I bought so much makeup! I found these nice velvety lipsticks and got the perfect color for my outfit. Alaska always does a great job with her cosmetics and I am a very loyal customer and her prices are always reasonable.
I went to another event called Prismagica and got a set of modeling poses from double take. All the poses have the legs in stride, which is probably why the set is called "in stride." I am showing off the Sticky Sweet pose.
The sunglasses are from LaGyo at the most recent Collabor88. They are super fabulous!
The hair and hair accessories are from a brand that is new to me called [kik]. When I was looking for hair to complement my swimsuit and thought the beachy waves really went well. The hair accessories are included in the hair, which is awesome!
Last, but not least, are my sandals from fri.day at the most recent Uber. They are super hot and perfect for strutting across the boardwalk.
Credits
Hair and Accessories: Lauretta – V.2 – Auburn – [kik]
Sunglasses: Donatella Sunglasses – Amber – LaGyo – Collabor88 August
Septum: Septum Piercing – Metal – -Suicidal Unborn-
Lipstick: "Velvet" lipstick – Lelutka – alaskametro<3 – Mesh Body Addicts Fair
Swimsuit: Nessa Swimsuit – Gold – *Just Because*
Tattoo: Sweet Love – Fresh – .Identity. Body Shop – Mesh Body Addicts Fair
Nail Polish: "Pastels/Gold" Nail Polish – alaskametro<3
Shoes: Tania Sandals – Buck – fri.day – Uber August
Poses: in stride – sticky sweet – double take – Prismagica; little prince carousel – daydream – small – Vespertine; Sunday Sofa Corner – Grey – Vagabond
Animation: 12/BLAONOturnR01 – Body Language Sweet Lovely Cute
Location: Baja Bay