"I feel pretty. Oh so pretty!"
I am feeling like a bombshell in my new outfit.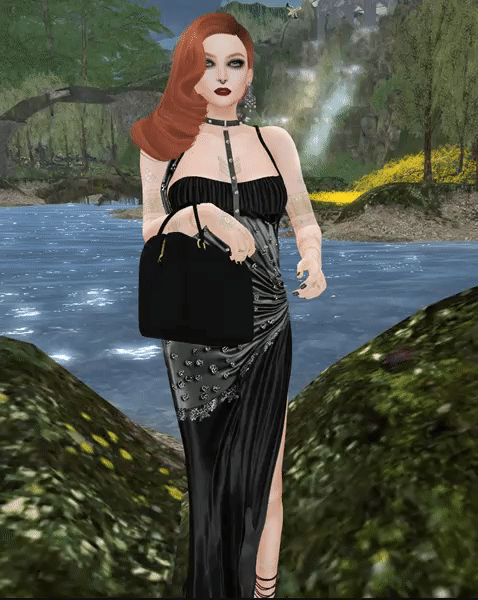 The events of April have started and the March ones are winding down and I thought I should show you what I got in my latest haul of items.
I am wearing this beautiful gown by [EvelineintheBox] at the Square1 event, which runs until the 21st of April. I haven't worn many gowns in Second Life, largely due to not going to formal events. In the early days of Second Life, there were gowns galore and events to go often, but now everyone is far more casual when going out to have fun with friends.
The harness is from Cubic Cherry's Vain gacha set at the Lootbox event. When I saw the previews on Plurk, I was salivating and looking for a chance to wear it. It is a rare (the other rare is a pastel harness). When I put it on for this blog, I knew it worked. The harness does have a strap around the waist, although it is obscured by the dress.
 If you don't notice, I am wearing a new skin applier with new freckles. Glam Affair did this wonderful Maria applier for Powder Pack's first Lelutka box. The skin feels like my system head more than the default skin that comes with the head. The freckles are from Izzie's, once again from Powder Pack for Lelutka March box. I really like they way they came out. Izzie's also did the eye makeup and the lashes, but the eyeshadow is from the Power Pack. Last but not least the lipstick came from Bold & Beauty's contribution to Power Pack, which is a huge palette of matte lipsticks.
I am also wearing alaskametro<3's  foil flash tattoos. The appliers have materials. This is the rare that has all the commons together in one applier. This was a gacha for the Spoonful of Sugar Event for Doctors without Borders, although, the event is now over.
Last but not least, I am wearing ISON's Shoetopia item, the Charlotte heel, which themed HUDs to change various parts of the shoe. The meshwork is stunning as usual. Shoetopia has a bunch of great shoes just waiting for you to pick out!
Credits
Hair: Betty – Redheads – Elikatira – Retirement Sale!! Ends 4/21
Skin: Maria – Artic – Glam Affair – Powder Pack for Lelutka March
Freckles: Freckles Combi Set – Izzie's – Powder Pack for Lelutka March
Eyeshadow: Glossy Eyeshadows – Izzie's – Powder Pack for Lelutka March
Eyelashes: Lelutka Bento Eyelashes – Izzie's
Lipstick: Ultra Matte Lip Collection – Bold & Beauty – Power Pack for Lelutka March
Septum: Septum Piercing – Metal – Suicidal Unborn
Earrings: Diamond & Pearl Chandelier Earrings – Paper Couture Jewelry – Marketplace
Dress: Helena* – Black-Silver – [EvelineInthebox] – Square1
Harness: Vain* – Harness – dark pack – RARE – Cubic Cherry – Lootbox – gacha
Tattoo: Foil Flash Tattoos** – All – RARE – alaskametro<3 
Bag: Ariane Bag – Mowie. – Marketplace
Nails: SLINK manicure applier – Midnight – alaskametro<3 – Marketplace
Shoes: charlotte – fall – ISON – Shoetopia 2017
Poses: Lily – Pose 4 – Kirin; Azure – Pose 5 – Kirin; [almond] – a touch of shyness – (marukin)
Animation: Nortorious – Stand 08 – Body Language Sweet Lovely Cute
Location: Galadriel's Mirror
*Blogger Copy
**Unclear whether the gacha will be placed in store after the event