I'm expressing my kinky side, apparently.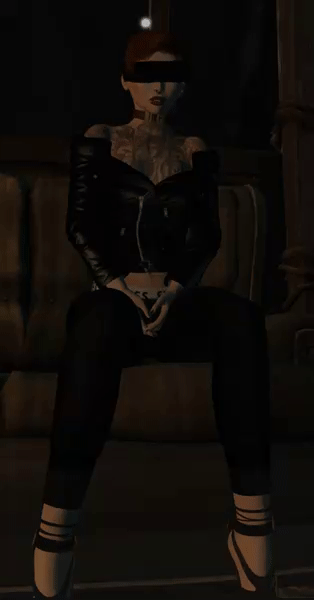 Just bidding my time before I'm freed.
N°21 has started and forms the basis of this post. First, the hair from Stealthic is a wavy undercut. Technically, the hair is a men's hair, however, it fits perfect on my head, which I personally am a little on the small side, so I was happy. The hair comes in a variety of styles with two different volumes and sides. My real life hair looks like this, but it is starting to get in my eyes, but too short to put in a bun, so maybe a trim is needed.
The leather jacket is from Sabotage at the 
N°21 event. It is really cool and texture and meshing are done really well. In the fatpack, you get versions with cool graphics and patches on it, but I opted for straight black. They also have graphic leather racing pants. Those looked cool but didn't quite feel like buying. Sabotage also has some boots for purchase. Not my style, but maybe they are yours.
The pants are from .miss chelsea.
N°21, which is another brand that is relatively new to me. I have been looking for some joggers for a while now and thought these were perfect to complete the look with the jacket.
For this post, I wanted to create a kinkier biker and when looking for events to go to, I spotted the XXX Event. They had a lot to offer like the collar from [InsurreKtion], which is color changeable, with a lot of color options, and there are multiple titles to change from the HUD. I went with more of a classic look.
The pose (the one in the van) and blindfold are from ::WetCat:: for the XXX Event. The pose comes in a poseball, rather than as a set of animations, and the blindfold is a separate object that you request from the menu. It comes with wrist restraints, but I didn't use them.
Credits
Hair: Narcotic – Reds – Stealthic – 
N°21 August
Hairbase: Cassie – Set Three – Lelutka
Blindfold: "Bound" Blindfold Set – ::WetCat:: – XXX Event
Eyeshadow: Cairo Eyeshadow* – alaskametro<3 – On9 August
Septum: Septum Piercing – Metal – Suicidal Unborn – Marketplace
Lipstick: Mistress Lipstick* – alaskametro<3 – anyBODY August

Jacket: Off-Shoulder Motor Jacket – Black – Sabotage – 
N°21 August
Tattoo: Left Behind – .Identity. Body Shop – Men Only Monthly
Collar: Tittle Collar – [InsurreKtion] – XXX Event
Nails: Metallatic Nail Polishes –  Classic/Gold – alaskametro<3 – Marketplace
Pants: Reba Pants – Charcoal – .miss chelsea. – 
N°21
Shoes: Brandi Heels – Black – [BREATHE] 
Poses: "Bound" Blindfold Set – ::WetCat:: – XXX Event; The Opium Series – five – an lar [poses]; The Opium Series – three – an lar [poses]
Animation: Makeshift Refuge Sofa – DRD
Location: Everwinter
*Promotional Copies provided