Despite all the fun colors of this round's Collabor88, I went straight for the more autumnal tones, which is–well–par for the course in my real life.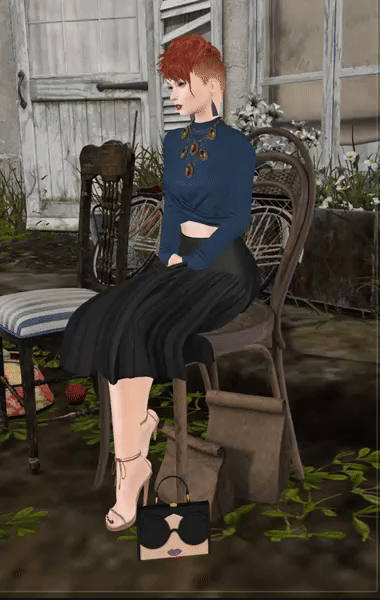 This look was inspired by Laura Tully, a stylist and fashion blogger from Boise, ID, who I follow on Instagram!
She shared a picture of herself wearing a pleated skirt with a tied t-shirt and I was really happy I bought the Collabor88 shirt from Emery and pleated skirt from ISON.
My hair is once again from Drot, from the REWIND event. I really like short hair and I love undercuts of all kind (except, largely, the Hitler Youth haircut). The lipstick is from Izzie's  is a free gift at REWIND and comes in a bunch of muted shades.
My earrings are a freebie for all from OXIDE and come in several different metals. I also have this really nice dark quartz necklace from Paper Couture, which you can find on the Marketplace. How cute is my bag? It is another brilliant piece by mowie.
I will have more from Square1 in the next post.
Credits
Hair: Elliot – Vibrant – Drot – REWIND
Hairbase: Cassie – Set 03 – Lelutka
Lipstick: 90's Ombre Lipstick Gift – Izzie's – REWIND – Free
Earrings: Bell Earrings – OXIDE – Free
Shirt: Krabi Twist Front Top – Navy – Emery – Collabor88 February
Necklace:  Multi-Strand Smokey Quartz Necklace – Dark – Paper Couture Jewelry – Marketplace
Bag: "Julia Bag" – mowie. – Marketplace
Skirt: pleated skirt – black – ISON – Collabor88 February
Shoes: Recife – Nude – Essenz – Monthly Midnight Madness February – Free
Poses: The Opium Series – Four – an lar [poses] – The Coven; Embedded in seat by junk.; [almond] – Little Seed –  (marukin)
Gif: Embedded in chair by [ zerkalo ]
Location: Isle of Serendipity, Neva River