I felt like busting-a-move tonight and got in the Carnival groove that broke me out of the screenshot!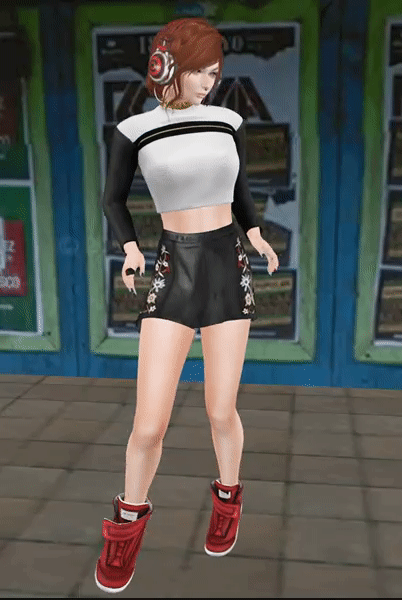 This sim I found, CIUDAD INK, is a Southern American club and has a cool looking sim. Second Life has a bunch of places where it is a not so nice spot in the city, but this feels unique and all the colors give a vibrant feeling to the locale. Sure this isn't the nicest area, but it projects a whole other feeling, maybe like the feeling of Carnival itself. Hopefully, I am not fetishizing/exoticizing Southern America when I say this.
Cubic Cherry just released these gacha earphones at Whimsical. There are 16 ones to win (2 Rare and 14 Common). I am wearing the red rare which have the little target graphic on it. It sort of reminds me of Tim Burton or something.
I'm wearing one of Truth's February group gift hairs, Char. I am typically not the biggest fan of Truth–this critique goes back years–because I always feel like Rapunzel with all the hair piled on top of my head.  The styles are great and textures are amazing, just not the actual amount of hair that he uses.
The top is from fame femme at Tres Chic, which is about to close on the 5th, and loved the texture on the "fabric" and thought the zipper detail really added something to it. The skirt is from Emery at this month's Collabor88. I love the embroidery on it, although I initially thought it was going to be longer. Emery is fast becoming my go-to brand. The quality of the textures and mesh is always amazing and the style is that happy medium between sexy and covered. The shoes are the Strapped Vulcan hightops from a collaboration between FLITE. and REIGN.
For the jewelry, I am decked out in [tea.s], an indie brand, that is currently inactive due to the creator's RL, but I can't wait until she is back and creating stuff.The earrings are once again OXIDE's freebie.
Credits
Hair:  Char – Gingers – Truth – February Group Gift  (L$ 350 Join Fee) 
Headphones: {Honshu} headphones* –  cool – Rare – Cubic Cherry – gacha – Whimsical
Septum:  Septum piercing – METAL – Suicidal Unborn
Earrings: Hoop Earrings – OXIDE – Subscribo Gift
Top: Vera Cropped Top – White – fame femme – Tres Chic (Until March 5th)
Collar: Rock & Roll Collar – Gold – [tea.s]
Ring 1: Pyramid Ring  – Onyx – [tea.s]
Ring 2: Bad Knuckle Ring – Onyx/White – [tea.s]
Skirt: Susan Embroidered Skirt – Black – Emery – Collabor88 February
Hightops: Strapped Vulcans – Red Suede – FLITExREIGN
Poses (Left to Right): Embedded animation in Bar Chair – Flaks; Chaconnee – Pose 8 – Imeka; Lily – Pose 3 – Kirin – Kustom 9
GIF Animation: Mickey – 17 – MOVE! ANIMATIONS COLOGNE
Location: CIUDAD INK
*Blogger Copy Provided