I can just hear The Cranberries.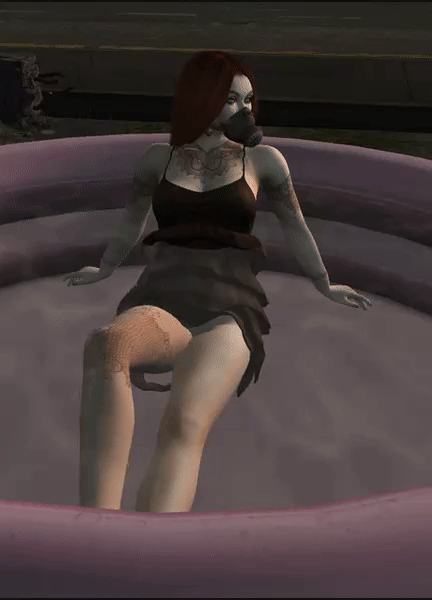 Toxic air particles can you into a wheezing, infected individual. Use protection.
So I have another dystopian vision for you today. The gas mask from Cubic Cherry from Thereafter certainly fits the bill. The textures are phenomenal, and you can a variety of colors and options to chose from the color change HUD. I get to relive my childhood love of the PlayStation One classic, Bust-a-Groove, which was a rhythm game with all sorts music and dance styles and the techno character was named Gas-O, who naturally came with his gas mask.
I am also wearing two new makeups from alaskametro<3. For the eyeshadow, I am wearing her Cairo set at On9 which is with duo colors and a heavy liner. In the middle picture, I am wearing her Mistress lipstick at anyBODY which has a nice sexy liner to give it that sex appeal.
The Vinyl dress is from a brand new gacha event, Pocket Gacha! Yes, another gacha event, BUT, one that is HUD based and can be played anywhere! Now no more laggy sims because of all the scripts and overly complex avatars aren't in one place. You can purchase tokens (1 token for every L$1) or just give the HUD permission to take out money from your personal account. Some designers give the option to purchase all the items at copy permissions, which is amazing! Pull prices vary from 50 tokens/L$ to 100 tokens/L$. Personally, I like the token system so I don't end up spending my balance on gacha items, but it seems like people prefer giving permission.
I am becoming more enamored with using Windlights as my lighting for my photos, I am still wearing my Glam Affair Artic skin and it looks positively bone white.
There are a few more new items in the pictures. My hair is from Mirthral Apothecary for this month's Kustom9. I thought it was a pretty hairstyle, perfect for more romantic, feminine blogs, but I love how it looks in the post-apocalyptic context. The sandals are fri.day's contribution to last week's Fifty Linden Friday. I really like the straps and grommets on it. You can't quite see it in the pictures with the gas mask, but I am wearing OXIDE's Nox choker, which is also from Thereafter.
Credits
Hair: Menthol – Reds – Mithral Apothecary – Kustom9 August
Eyeshadow: Cairo Eyeshadow* – alaskametro<3 – On9
Gas mask: After gasmask* – Cubic Cherry – Thereafter
Lipstick: Mistress Lipstick* – alaskametro<3 – anyBODY
Dress: Annabelle Gacha Dress – Brown – Maitreya – Vinyl – Pocket Gacha
Collar: Noxx Collar – OXIDE – Thereafter
Torso Tattoo: Zara tattoo – Henna – faded – Nanika – Marketplace
Nails: metallic pack nail polish – Classic/Gold – alaskametro<3  – Marketplace
Leg Tattoo: Sara tattoo – Henna – faded – Nanika – Marketplace
Sandals: Edie Sandals – Earth – fri.day – Fifty Linden Friday 08/18/17
Poses: Selma – 5 – LUXE – Kustom9 – August; Selma – 2 – LUXE – Kustom9 August; Canteen Stool – [Rusted] – soy.
Animation: Oily Paddle Pool – BN inc – ADULT
Location: Midnight Glory – ADULT
*Promotional Copies provided