I was shifting through a destination Flickr group and found this lovely chateau that is open to visitors at certain times.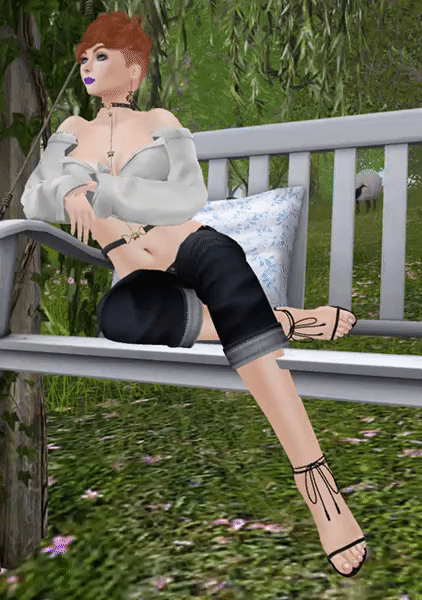 I could swing and enjoy the view forever.
So Cubic Cherry has a new gacha out at ROMP and one of the rares is this harness that starts at your neck and goes down your torso and hits you mid-waist. The chain has star charms along the way and it looks beautiful. The rest of the gacha includes jewelry like individual stars making up a star shaped pastie. There is also a pantie that just covers the bits. Check out Cubic Cherry's Flickr page for the gacha ad and gacha key.
Kustom9 just opened on the 15th and I got some goodies to show you! First is this great top that is a shoulder bared blouse from SEUL. It is so chic and can go with so much I just had to have it. SEUL is a brand that is new to me and they definitely have my business because the mesh and texture are so beautifully done.
Also from Kustom9, I have a new pair of jeans from Buneo. The booty is amazing on these! I also thought the capri style was something different than I normally buy jeans in SL, and they were perfect with the top from SEUL. They come with a wraparound flannel shirt, but I thought for this look I might leave it out, although I definitely see myself wearing the flannel with a different look.
The earrings are from OXIDE for the new event THEREAFTER run by the Seraphim team leader Delicate T. Flower, that engages the styles of a post-apocalyptic, yet chic, in the aftermath of nuclear devastation. Considering we hear threats of nuclear war many times a week in the news, let's hope we don't have this event in real life.
Credits
Hair and Hairbase:  Cassie – Short – Lelutka
Eyeshadow: mosh queen – summer festival edition – #adored – Powder Pack for Lelutka July
Earrings: Noxx Set – OXIDE – THEREAFTER
Lipstick: Ultra Matte Lip Collection – Bold + Beauty – Powder Pack for Lelutka March
Blouse: Exposed Shoulder Blouse – Blanc – SEUL – Kustom9
Harness: Lyrae* – harness black – RARE- Cubic Cherry – gacha – ROMP
Jeans: Cuff Jeans – Navy – BUENO – Kustom9
Shoes: Recife – Black – Essenz
Poses: Outdoor Chair – Warm Animations; Rika – Pose 1 – Kirin – Kustom9; White Bramley Porch Swing – short – {what next}
Animation: White Bramley Porch Swing- short – {what next}
Location: La lac des cygnes – (Vistors allowed at certain times)
*Promotional Copy