I thought I would try something a little darker, both in the imagery and the actual lighting of the photos.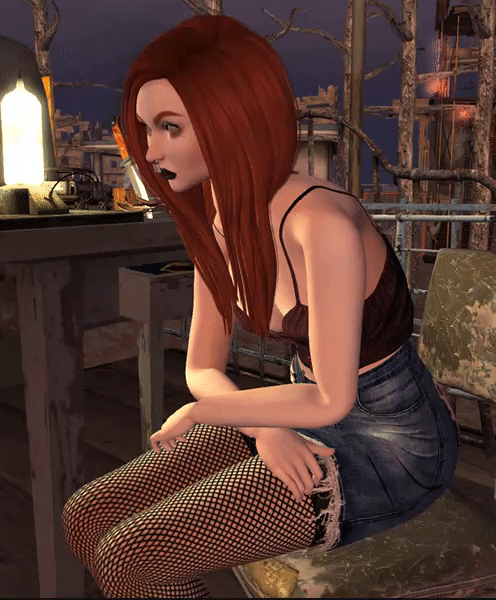 It isn't terribly dark by SL standards so there is that!
Today, I'm wearing the two pieces put out by imbue. at SaNaRae's July Round. The knit top has a great texture. I really liked the layers/scallops and knew I had to get it. The jean skirt is also nice and I like the patterned pockets. The pockets come in three styles, normal and two patterns. Be sure to hurry to SaNaRae as this round closes in just a few days!
The hair is from Mithral Apothecary at Hairology. Mithral is one of my favorite hair brands because of her lovely ginger options. I like an orangey auburn/copper, not too dark or red, not neon orange. I will not buy hairs with the wrong color texture, so I really love it when I find a ginger that is perfect and give all my business to them. I also like Mithral's general style of meshing so I always enjoy trying on her hair.
In other news, I actually went to ROMP this round because I was trying to find a nice body suit, but I didn't find any that worked for me. In addition to the body suit, I was looking for some nice domme shoes because every girl needs to stomp on their sub. I thought these from [BREATHE], which is quickly becoming a fixture on the event circuit, so I snatched these epic sandals right up. I also picked up poses from an lar [poses] without trying them so I was thrilled to find them perfect for blogging.
The jewelry is from two events happening now, Rewind and The Coven. The padlock septum is from The Horror!~, who is coming back from a short hiatus, at Rewind: 70's Punk. Included in the pack are four metals and two versions, plain and one with an anarchy symbol.
The necklace is from The Coven sponsor .:Supernatural:. It comes with another necklace for layering and comes in either gold or silver. .:Supernatural:. has more necklaces out at her booth so be sure to make a visit at The Coven.
Credits
Hair:  Kukui – Reds – Mithral – Hairology
Eyeshadow: Stella Makeup Set – .ARISE. – Power Pack for Lelutka July
Septum: Anarquismo Septum – Silver (Plain) – The Horror!~ – Rewind: 70's Punk
Lipstick: Alyssa – Zibska – Power Pack for Lelutka July
Top: ribbed lace up tank – plum – imbue. – SaNaRae July
Necklace: Heather – Silver – .:Supernatural:. – The Coven August
Skirt: torn denim skirt – design 1 – imbue. – SaNaRae July
Fishnets: Seamed Fishnet Stockings – Black – BigBeautifulDoll – Marketplace
Shoes: Brandi Heels – Black – [BREATHE] – ROMP
Poses: The Vincue Series – Three; Four; Two – an lar [poses] – ROMP
Animation: Old Vinyl Chair – Razor Bird
Location: Tralala's Diner