I don't camp at all. Something about bugs, dirt, and public toilets isn't appealing. I am an urbanite that will make a large city park into my own forest.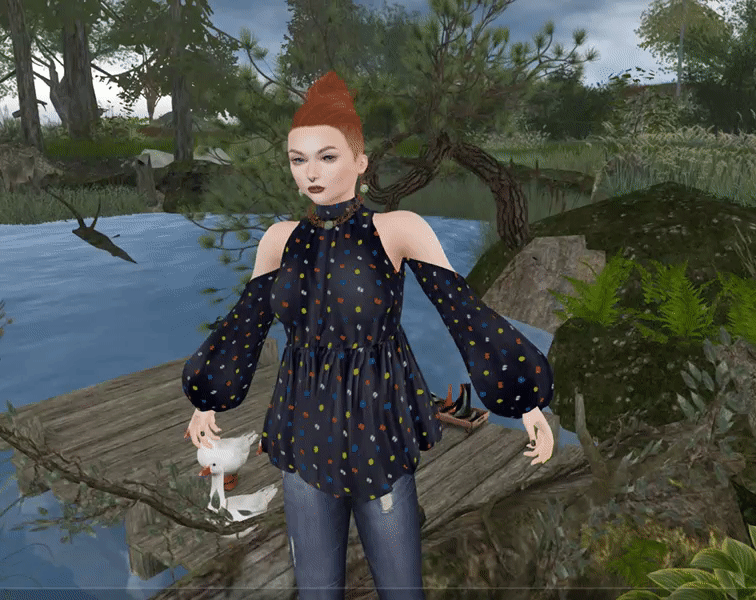 The irony is I love the feel and the smells, just not the frustrating negatives. I really like when the forest is right on the coast. It just adds a lovely feeling to the world. The West of the Rain sim has a cute representation of a seaside island forest. Something about it just puts me at ease.
This is the second post for the Stuff My Inventory's Jewelry & Accessories Hunt. This time I am showing off Indulge Temptation's (Also known as IT!) Majestique Set. There is a beautiful stone pendant in both the earrings and the necklace. The gorgeous wire work changes to 10 different metal colors. And you get it for free!
I am also wearing my new Slink Bento Hands! If you already purchased hands from Slink, go to the mainstore, click on a redelivery computer, and have your hands redelivered, and you should have them when you open the box. The meshwork is well done, but I wish the default bones didn't curl so dramatically. Plus they are animated to give some life to the fingers if you don't have a bento AO.
The blouse is from COCO, a brand that has been around forever, and I remember going to their store during the stamp rallies, which were held back about 5 years ago, twice a year. You had to buy an item with the stamp sheet and then go to all the stores participating and have your sheet "stamped." Then you turned in your sheets for prizes from the participating stores. It was an awesome event, that I wish creators would do again!
The jeans are from Addams, which have been a nice staple in my everyday SL wardrobe. The shoes are from Essenz, which are just the black pair of the ones I got from Monthly Midnight Madness, because I was loving the nude pair, but needed them in black too.
Credits
Hair: Cassie – Medium Length – Tones 3 – Lelutka
Hairbase: Cassie – Tones 3 – Lelutka
Septum: Septum Piercing – Metal – Suicidal Unborn
Earrings: Majestique Set* – IT! (Indulge Temptation!) – Jewelry & Accessories Hunt
Lipstick: 90's Ombre Lipsticks Gift** – Izzie's
Blouse: Cold Shoulder Blouse – Dots Midnight – COCO
Necklace: Majestique Set* – IT! – Jewelry & Accessories Hunt
Hands: AvEnhance Bento Hands – Slink
Nails: SLINK manicure applier*** – Midnight – alaskametro<3 – Marketplace
Jeans: Real Worn Out Jeans – Addams
Shoes: Recife – Black – Essenz
Pedicure: 90's Nail Art Set – Zanzibar creationZ
Poses: animation embedded in Harvest Bench Light – Pixel Mode; Lily – Pose 6 – Kirin; TSS Gift – 3 – Kirin
Gif Animation: Nortorious – Stand 04 – Body Language Sweet Lovely Cute
Location: West of the Rain
*Blogger Copy Provided
**No longer available as far as I know
***Updated set with Maitreya, Slink, and Omega appliers (plus more colors) out at Skin Fair 2017