So I was up for a promotion at another store location in my state and it is in a little seaside town. The interview went great and I love the area, but I didn't get it, which could be a better thing in the long run.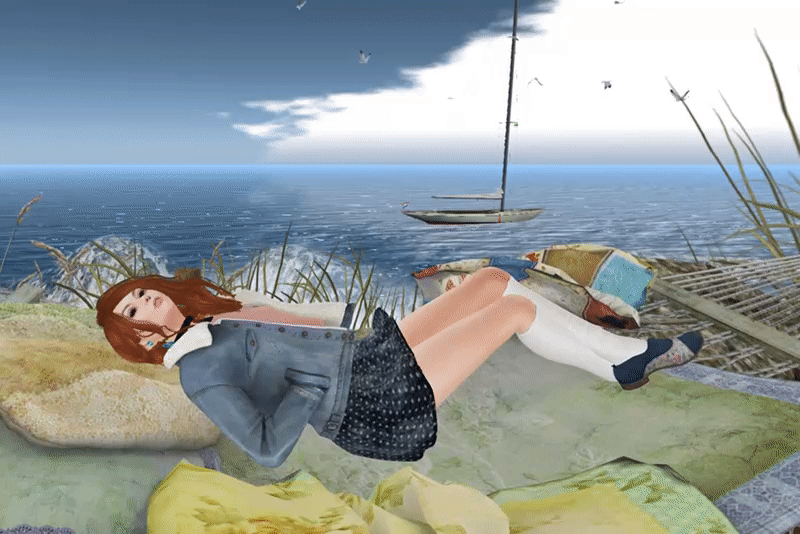 The town is where I frequently vacation with my parents and it would be wonderful to finally move away from my hometown. This beachy sim, Jacks. is wonderfully stark, unlike the ones in the town that I applying. Most of the beaches have big cliffs surrounding them, but this is all open beach, much like its own island.
This month is Stuff My Inventory's Jewelry and Accessories Hunt, which has a boho theme. I am both a blogger and a merchant, look for my item in another post. Today, I am wearing creme spaghetti hair's Choker8 in bronze. It comes in multiple colors–a fatpack–and it has a neat "Celtic" knotted triangle (I don't have any Irish ancestry). I am also wearing these nice turquoise feather earrings from Yokai, which are really well done, although I had to resize them because they were a tiny bit too big for the avatar. I have the link to SMI's website with all the hints and LM's for the hunt.
The outfit was started by the tops, from Pixicat's Bloom Jacket, which includes the fake shirt. It was for Collabor88's February round, however, by the time this post goes live, it is likely it will be in the mainstore. The skirt is from Tres Blah, but it a really old item that I have kept. The shoes are from Ingenue, which is from a couple Collobor88 rounds ago. I love oxfords and saddle shoes, and I totally fatpacked them.
Now I must take a second to discuss my favorite applier store, Izzie's. The socks and all the makeup is from Izzie's. I have piles and piles of her socks and stockings and they are all really well done. I thought that the knee socks looked great with the look.
The texture work on the crying applier is just about amazing and is so well done. I also have been looking for decent Lelutka lip gloss. I find with some makeup brands the textures go beyond the lip bounds to create a bigger, pouter lip, which is not really the look I go for with Kitty. Izzie did such a great job with the lip glosses that I might just keep them on permanently.
Credits
Hair: HoneyAna – Gingers – Truth – February VIP Gift (L$350 Join Fee)
Septum: Septum Piercing – Metal – Suicidal Unborn
Earrings: Feather Earrings* – Yokai – Jewelry & Accessories Hunt
Tears: LeLutka Tears Applier – Izzie's
Lip Gloss: Daphne Sheer Lipgloss (LeLutka) – Izzie's
Jacket and shirt: Bloom Jacket – Blue – Pixicat
Choker: Choker8* – fatpack – cream spaghetti hair – Jewelry & Accessories Hunt
Skirt: Acid Wash Skirt** – Polka Dots – Tres Blah
Socks: Knee Socks – Basics – Izzie's
Shoes: Danja Oxfords – Navy – Ingenue
Poses (left to right): Embedded Animation – Metal Arm Chair – Silver – Soy.; Azure – Pose 1 – Kirin; Azure – Pose 2 – Kirin
GIF: Lilith Hammock – Cheeky Pea
Location: Jacks.
*Blogger Copy Provided
**No Longer Available