I don't imagine Kitty as some tough brute, but rather the crime boss directing her own badass syndicated crime network!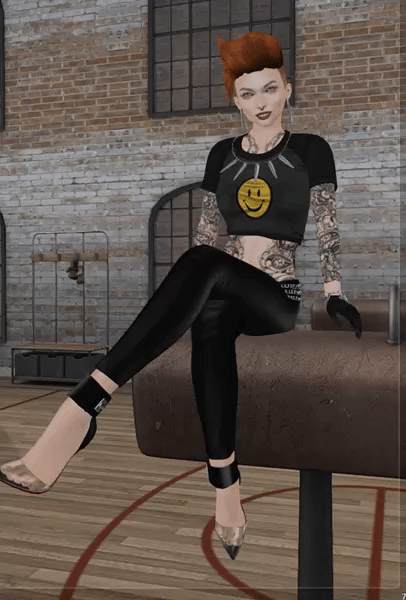 The inspiration for this look was inspired by the pants that are a part of the AdoreZ's Kenya Black Outfit that you can get at Square1. They have built-in chains and I took it from there.
The tattoo is really cool, from Arabic Tattoos at Square1, and I thought I should have gloves with it, so I got these from the Scarlett Designs from the Marketplace
The shoes are really old, but the quality from [Co57] still stands the test of time. The shirt is from REWIND and is from [Azuchi].
The jewelry is something I made for Jackpot Gacha last year. The "charms" are bullets and I have a bunch of different necklaces from this gacha, but I thought the rare looked best. You can play the gacha at my store, Kitty's Claws! The bracelet is a freebie, that I will put back up on the Marketplace.
The hoops are another freebie from OXIDE, although you have be a subscriber or group member to get the gift.
If you are interested in starting that Crime Syndicate, fill out this form. Accepting applications for all roles.
Credits
Hair: gerald – variety – lock&tuft
Hairbase: Cassie – Set 03 – Lelutka
Septum: Septum Piercing – Metal – Suicidal Unborn
Earrings: Hoop Earrings – OXIDE – Subscribo Gift (No join fee)
Lipstick: 90's Lipstick Gift – Izzie's – REWIND – Free
Tattoo: flow me* – Arabic Tattoos – Square1
T-shirt: Gwen T-shirt – Smiley – [Azuchi] – REWIND
Necklace: Pew Pew – Silver – RARE – Kitty's Claws** – gacha
Gloves: Black Leather Gloves – Appliers – Scarlett Designs – Marketplace
Bracelet: Deadly Kiss Bracelet – Kitty's Claws** – Marketplace  (Limited Offer!)- Free
Pants: Kenya Black Outfit* – Pants – AdoreZ – Square1
Shoes: Khloe Pump – Noir CLR – [Co57] – No Longer Available
Poses (Left to Right): Frequency Shift – 31 – Bauhaus Movement – The Liaison Collaborative; Embedded Animation in Vintage Gym – RARE – NOMAD – gacha; Alejandro – 2 – Olive Juice (No longer in SL)
GIF: Embedded Animation – Pommel Horse – NOMAD – gacha
Location: Natural Falls V
*Blogger Copy Provided
**I am the owner of Kitty's Claws