Happy (early) Valentine's Day! I am going to be exhausted after work tomorrow so I thought I should post tonight, but for some of you, it is already time to celebrate!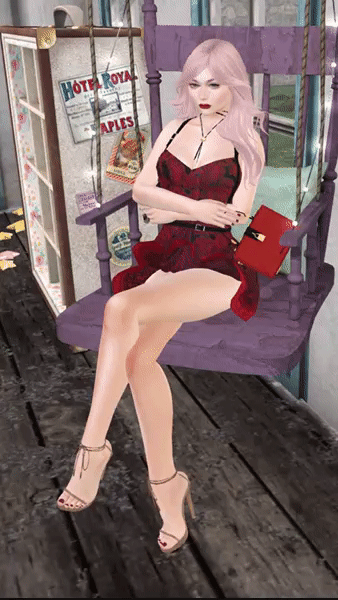 I'm bit of a loner and saw myself as a confirmed single in high school. I might get married in the future (if I still have the right -_-) but right now busy trying to get a career started and to move to New York. So time for a boyfriend, much less a husband is not really there.
Tonight I am wearing BlackRose's February Group Gift, a lovely leather strap dress with black lace overlay. The quality is really good and you can't beat a no join fee group.
The handbag is by a new brand to me, Mowie., and the handbags and other accessories are gorgous! I want them all! I thought the "Christina" bag looked the chicest with the dress, but Mowie. has so many options, some quirky and others looking like designer handbags in RL! It is currently only on the Marketplace!
The cookie is from [Fetch] for the XOXO Hunt run by Tri Events. You TP to a store's mainstore and type "XOXO" in chat and you will either receive the item or will have to wait another 24 hours to try again or you can purchase it for L$50. There are a bunch of quality stores in the hunt so check out the hunt's blog. The event runs from February 11th – 25th, 2017.
Credits
Hair: Kissing Strangers – Pastels – Exile
Eyeliner: Simone 2.2 – Lelutka
Lipstick: "Creme Red" lipstick – alaskametro<3 – Marketplace
Septum (In the long shot only): style 15 – silver – MONS
Cookie: Heartbeat Cookie – [Fetch] – XOXO Hunt – Feb. 11th – 28th, 2017
Dress: Leather Strap Dress – BlackRose – Group Gift (No join fee)
Necklace: Alicia – Gold – Supernatural – The Coven
Ring: Diamond Fan Ring – Paper Couture Jewelry – Marketplace
Bag: "Christina" Bag – Mowie. – Marketplace
Shoes: Recife – Nude – Essenz – Monthly Midnight Madness February
Poses (left to right): Liz – Pose – 7 – Imeka; Moca – Pose 5 – Imeka; The Opium Series – Five – an lar [poses] – The Coven
Location: Cutie Club