While it is still Winter in the Northern Hemisphere, I have been wishing for warmer weather and beautiful lush landscapes.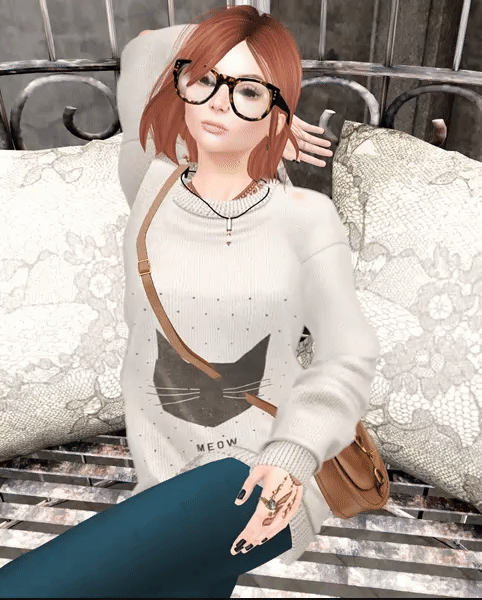 I decided to go to Whimberly to check out the sim and it is perfect to cure those winter blues and believe in the beauty of Spring.
I picked up this wonderful sweater and crossover bag top from Zenith at this month's N21 and it goes perfectly with my hipster aesthetic.
The rest are a bunch of older things that go well with the look, including the Imbue necklace with is a group gift still out for people to get. It costs L$99 to join the group which is well worth the price!
Credits
Hair: Nadia – Exclusives – [elikatira]
Glasses: Leigh Frames – Tortoise – Yummy
Earrings: Pineapple Earings – Gold – Yummy
Nose Stud: Cleopatra Nose Ring – Silver – Yummy
Tattoo: Zara – Henna – Nanika – Marketplace
Sweater and Handbag (One piece): loose sweater with bag – Milk – =Zenith= – N21 January
Necklace: Crystal Point Choker – Silver – Rose Quartz – Imbue – Group Gift (L$99 Join Fee)
Hands and Nails: Lara – Maitreya
Ring: True Fate Ring – Moon – Gold – Yummy
Tights: Sheer Tights – Colors – Izzie's
Shoes: Marsali Flats – Antique – Fri.day
Poses (Left to Right): Hipster Girl – 2 – Olive Juice*; Tidal Lay – Del May; Chaconnee – Pose 4 – Imeka
Location: Whimberly
*No longer available, I think