So I felt a little naughty when I tried on these pieces from Emery and had to go to Blithe to do some exploring.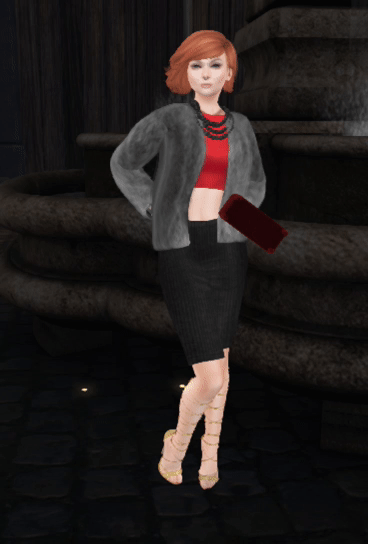 The red top is the crop top from Collabor88 January and the rest were from the December round.
The pearls are from Yummy that I just adore and love to wear. The rest of the accessories were from Monthly Midnight Madness in December!
Credits
Hair: Kristen – Redheads – [Elikatira]
Septum: Septum Piercing – Metal – Suicidal Unborn
Tattoo: Zara tattoo – Henna – Nanika
Hands: Lara – Maitreya
Nail Polish: Lara – Maitreya
Coat: Ostersund Faux Fur Coat – Grey – Emery
Top: Zina Top – Tanager – Emery – Collabor88 January
Necklace: Bombshell Beads – Onyx – Yummy
Purse: Kitty Toaster Bag – Lybra – Monthly Midnight Madness Exclusive December
Skirt: Vadstena Pencil Skirt – Black – Emery
Sandals: Hyacinth – Gold – EMPIRE – Monthly Midnight Madness Exclusive December
Poses (Left to Right): Maylee – 5 – Kirin; Ella- 6 – aDORKable Poses; Maylee – 6 – Kirin
Animation: Lily AO – Body Language
Location: Blithe – Requires L$750 Group Admission