I felt like shaking a leg to some Grunge at my local bar with this super 1990's velvet dress from Fame Femme at Tres Chic.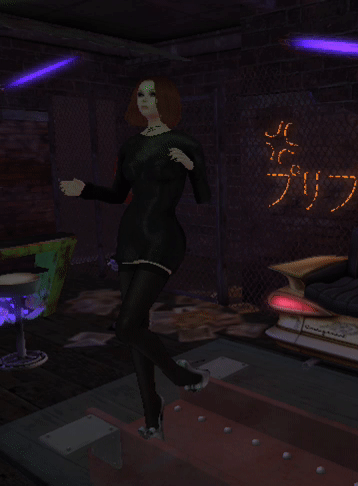 Okay, so it is a bit dark, but aren't those the best bars?
I got a little wild at the bar, but what can I say? Isn't the lighting amazing?
Credits
Hair: Frankincense – Reds – Mithral Apothecary – Kustom9 January
Makeup: Lelutka – Included in head pack
Choker: Velvet Bow Choker – Kitty's Claws*
Dress: Antonina Dress – Black – fame femme – Tres Chic January
Nails: Classic – Gold – alaskametro<3 – Marketplace
Stockings & Shoes: MELROSE HOLIDAY EDITION HEELS – REIGN.
Poses:  (Right to Left) Cute -2; Sexy -10; Wild – 2; all GLITTERATI (check the Marketplace)
Dance: Hola – Sine Wave (No clue if still in SL at all)
Location: Club Post – Everwinter – Elvan Mist
*I'm the owner of Kitty's Claws